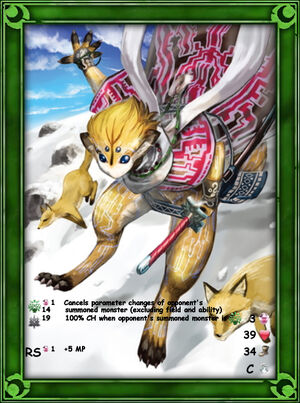 Mana Cost: 3
HP: 39
Agility: 34
Element: Earth
Family: Spirit
Card ID: #11
Pack: The Legend Begins
Rarity: Common
Illustrator: Yosuke Adachi
Fusion:
---
Breath of Nature - Earth Element, Mana Cost 1, Damage 14, Cancels parameter changes of the opponent's summoned monster (excluding Field and Ability effects).
Butterbur Cutter - Void Element, No mana Cost, Damage 19, Has a 100% chance of a critical hit when the opponent's summoned monster is Earth Element.
No SP Skill
Reverse - Mana Cost 1, Increases your Mana by 5.
No Ability
---
Personal Thoughts:
Slow and has low-ish HP for 3 mana. This monster can be used successfully under certain conditions. Excellent reverse skill to abuse.
You can read about the Korpokkur in Japanese mythology at http://en.wikipedia.org/wiki/Korpokkur.
| | |
| --- | --- |
| Poll | Poll |
Community content is available under
CC-BY-SA
unless otherwise noted.