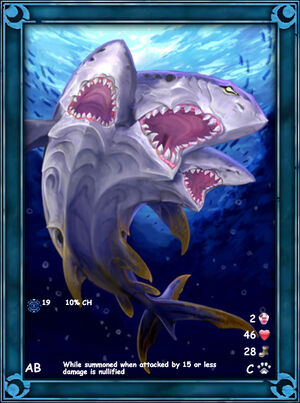 Mana Cost: 2
HP: 46
Agility: 28
Element: Water
Family: Beast
Card ID: #7
Pack: The Legend Begins
Rarity: Common
Illustrator: KOU1
Fusion: 5 cards needed for +1 Mana Cost and +7 HP
---
Shark Crush - Water Element, No Mana Cost, Damage 19, Has a 10% chance of a critical hit.
No Second Attack
No SP Skill
No Reverse Skill
Ability - While this monster is summoned, when attacked by an attack of 15 ATK or less, that damage is nullified.
---
Personal Thoughts:
This monster was really useful for killing slimes in the single player mode. Most attacks are going to be higher than 15 so Chaos Shark is the natural upgrade from this guy.
Poll

Killer Shark: Playability:

 

Poll

Killer Shark: Awesomeness:

 
Community content is available under
CC-BY-SA
unless otherwise noted.