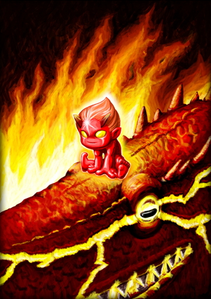 ---
Mana Cost: 2
HP: 17
Agility: 34
Element: Fire
Family: Spirit
Card ID: #186
Pack: Ancient War
Rarity: Common
Illustrator: Shintaro Hiue
Fusion: 5 cards needed for +1 Mana Cost and +3 HP
---
Little Fire - Fire Element, No Mana Cost, Damage 16, Has a 5% chance of a critical hit. Enables Preemptive Attack when the opponent's summoned monster is Fire Element.
No Second Attack
No SP Skill
No Reverse Skill
Ability - Increases your summoned monster's ATK by 3 while this monster is in standby state.
---
Personal Thoughts:
A good cheaper alternative to Sligoblin, Ifrin trades off HP for increased Agility and damage. You may not notice the 2 points difference in the Ability but you will notice that Ifrin often dies after a single hit.
Community content is available under
CC-BY-SA
unless otherwise noted.