---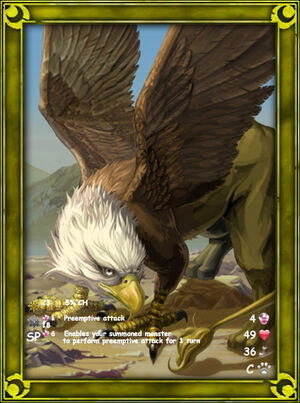 Mana Cost:
4
HP: 49
Agility: 36
Element: Light
Family: Beast
Card ID: #48
Pack: Otherworldly Visitor
Rarity: Common
Illustrator: Sayaya Kaneko
Fusion: 5 cards needed for +1 Mana Cost and +7 HP
---
Air Cutter - Light Element, No Mana Cost, Damage 23, Has a 5% chance of a critical hit.
Whirlwind Flight - Void Element, Mana Cost 1, Damage 18, Enables Preemptive Attack.
SP Skill - Mana Cost 6, Enables your summoned monster to perform Preemptive Attack for 1 turn.
No Reverse Skill
No Ability
---
Personal Thoughts: Griffon's SP Skill can win games with intelligent application, as the proper timing of this skill can be the same mathematically as a permanent Preemptive Strike. He's a good partner to Ogre or other monsters that nullify Preemptive Strikes as it guarantees you'll go first when you really need to. Combat wise, he's a little lackluster, but having a Preemptive Strike of it's own is always handy.
Community content is available under
CC-BY-SA
unless otherwise noted.