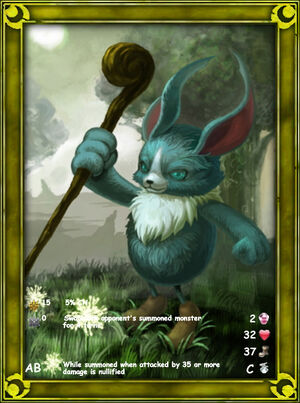 Mana Cost: 2
HP: 32
Agility: 37
Element: Light
Family: Spirit
Card ID: #9
Pack: The Legend Begins
Rarity: Common
Illustrator: Sayaka Kaneko
Fusion:
---
Cait Sith Scratch - Light Element, No Mana Cost, Damage 15, Has a 5% chance of a critical hit.
Paralysis - Void Element, No Mana Cost, Damage 0, The opponent's summoned monster is swapblocked for 4 turns.
No SP Skill
No Reverse Skill
Ability - While this monster is summoned, when attacked by an attack of 35 ATK or more, that damage is nullified.
---
Personal Thoughts:
This card is an amazing card for only 2 mana. It can shut down and destroy many high-damage dealing decks.
| | |
| --- | --- |
| Poll | Poll |
Community content is available under
CC-BY-SA
unless otherwise noted.